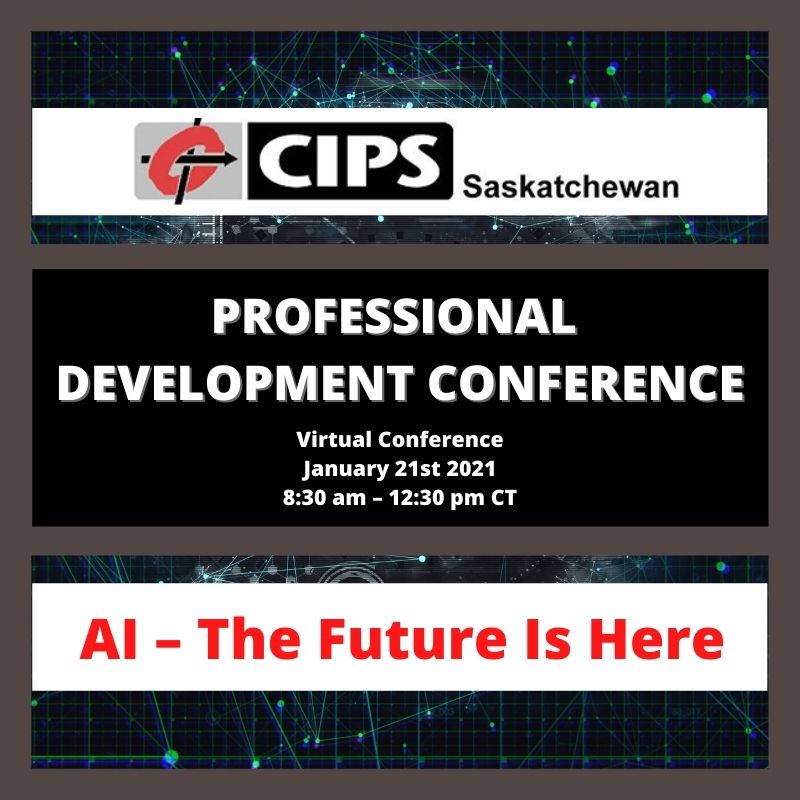 CIPS Professional Development Conference
AI – The Future Is Here
Virtual Event
January 21, 2021
8:30 am – 12:30 pm
---
Join us on January 21st to hear from industry, academic and keynote speakers as they share their views and thoughts about AI, including where is it now, where is it going, and are we ready for what it means for us now and what it might mean for us in the future.
---
---
Thank you to the following Conference Sponsors:




---
SPEAKERS & TOPICS
---
PART 2 – Thursday January 21, 2021
---
Keynote Presenter:  Maggie Greyson, Chief Futurist at Noemic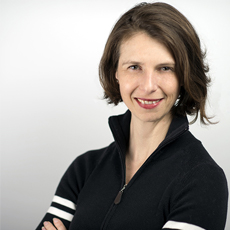 Thinking like a Futurist
Join Maggie Greyson for a fast-paced futures-thinking workshop at the start of a new year. Learn some tips and tricks using tools that you can apply to your professional and personal life to help you in these uncertain times. An anonymous survey will be sent to participants of the Futures Thinking Workshop to get you thinking like a futurist ahead of time. Find out what your colleagues think are the most important and uncertain trends over the next decade?
About the Speaker: Robust research and creative risk-taking define her 20-year career as a designer, futurist, and writer. Her mandate is to help people use the ambiguous nature of our times to play a meaningful part in the future. Out of our current crisis, she has co-founded an authentic Thought Leadership incubator. Noemic helps people like you with future thinking skills, to build confidence in 21st Century leadership, and amplify your truth through our media relations department. We serve leaders who are ready to:

• Expand their horizons
• Demonstrate awareness of truth and integrity
• Share their wisdom in support of other's successes
Maggie is an award-winning futurist recognized by the Association of Professional Futurists, and School of International Futures. Maggie's work garners international attention for strategic communication and innovative storytelling methods. She has designed interactive online experiences for Fortune 100 companies such as Nissan, GE, and Shell. She also has a ten-year career as a designer for the stage with companies such as the International Shakespeare's Globe, in London and the Stratford Theatre Festival. Maggie has a Master of Design in Strategic Foresight and Innovation from the Ontario College of Art and Design University.
---
Session Presenter: Sean Milne, SaskTel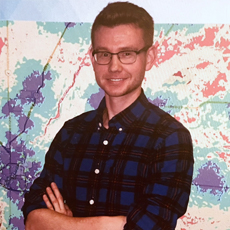 How to Deploy Machine Learning Models
This presentation will focus on different methodologies for deployment as well as use cases for each. ML deployment has always been a difficult subject as it requires both software engineering and data science skills. I would show a range of different options for deployment at every skill level.
About the speaker:
Sean attended the University of Regina where he studied Economics and Geography. He later specialized in Geographic Information Systems and received a post-baccalaureate certification from Penn State University. His professional experience began at the Town of Banff working as a GIS Analyst. Sean has been at SaskTel for the past seven years. He was previously the Client Technology Manager for the GIS system. In this role he performed GIS research and development and worked to evolve their spatial data system. He is currently SaskTel's Data Analyst-Planner, where he works on data projects throughout the Technology Division
---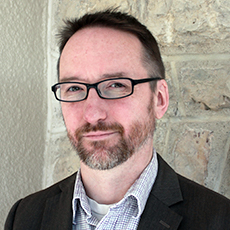 Session Presenter: Dr. Kevin Stanley, Department Head, Professor
Bringing AI to New Economic Sectors
Artificial intelligence has seen historical application in fields such as defence and finance, but has until recently, been less evident in traditional economic sectors like agriculture and mining. Advances in image processing, machine learning and data analytics have opened new paths into these sectors for exaple by allowing automated analyis of drone or satalite monitored crops or water supply. Training professionals for these new fields is challenging, as idealy graduates should have expertise in both the AI aspects of Computer Science, and the domain that they are applying AI to. The University of Saskatchewan has begun to build new courses and degree programs to meet that need.
About the speaker:
Kevin Stanley is a Professor of Computer Science at the University of Saskatchewan and it's current Head of Department. He broadly does research in Data Analytics, with particular emphasis on understanding human mobility through GPS analysis. He has designed the initial offering of the machine learning class offered at the University of Saskatchewan, and is in the process of designing a course on Data Analytics.
---
PART 1 – Thursday November 19, 2020
---
Keynote Speaker: Ed Limon, Digital Media Director & Creative Producer at Winged Whale Media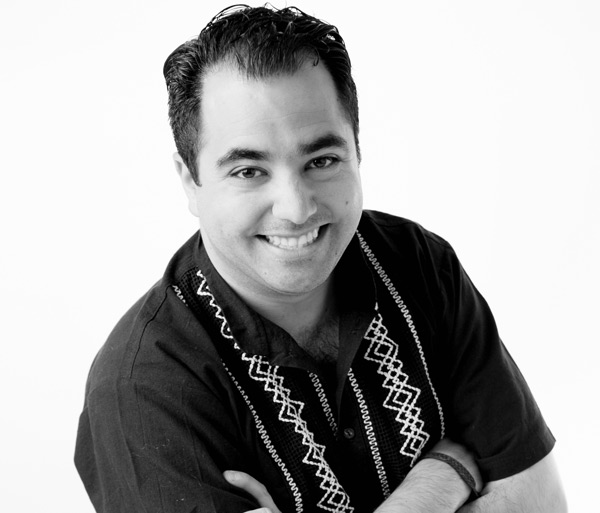 Ed Limon is the Co-Founder & Creative Digital Media Director for an International Award Winning Studio that won of the Telly Awards For Immersive & Mixed Reality & The ECDO Award of Excellence. Since its inception, Ed has collaborated closely with major corporations, tourism authorities, hotel chains & agencies across North America. He also specializes in VR (Virtual Reality) 360 Video, AR (Augmented Reality) and Artificial Intelligence.

As a storyteller, Ed has developed strategies for both consumer & Agent Training Markets. He's been known to coin the phrase, "The purpose of this incredible technology is to educate, inspire & entice both consumers & agents to better understand the destination". His Studio "Winged Whale Media" has had the opportunity to conduct various workshops, keynote presentations & public speaking. He loves mentoring youth and aspiring storytellers to embrace technology and the art of filmmaking.
---
Session Presenter: Alireza Manashty, Assistant Professor, Director, Data Science Laboratory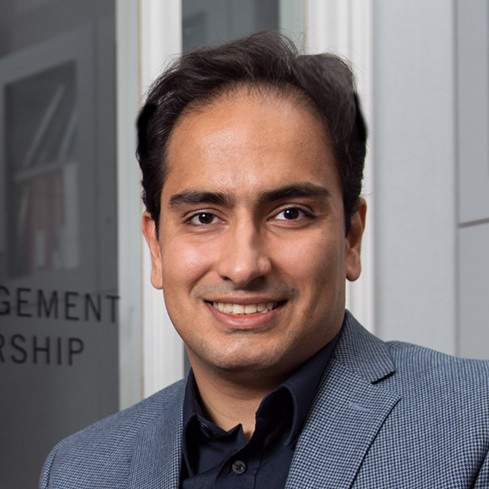 Building Predictive Analytics Models using Data Science Lifecycle
People are curious about becoming a data scientist. You do not need to be a data scientist to start solving business problems using data science lifecycle.
In this talk, you will learn about what Big Data and Data Science could actually mean, and how you can solve an actual business problem and leverage the data science lifecycle to automate some decisions using machine learning models in Python.
What will be covered in this talk:
How to reframe a business problem into a data science problem
Step-by-step scenario following the data science lifecycle to solve a business problem
Python sample code snippets for each step
Learning about a simple machine learning model in details
This talk will be followed by a hands-on workshop in December 2020 that allows you to walk through a data science problem.
About the speaker:
Dr. Alireza Manashty is the Director of Data Science Laboratory and an Assistant Professor in Computer Science (Data Science & Machine Learning) at the University of Regina. He is conducting research in temporal forecasting, federated machine learning, and explainable artificial intelligence. He has 9+ years of practical problem solving using machine learning by helping government, hospitals, and tech companies. Fortune 500 companies such as Microsoft, NVIDIA, and Google (Kaggle) have sponsored his research in recent years. Dr. Manashty holds a Ph.D. in Computer Science, a M.Sc in Artificial Intelligence, and a B.Sc in Software Engineering.
---
Session Presenter: Pat Valente, Data Science Solutions Specialist, SAS Canada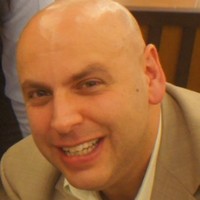 How Business can Utilize and Deploy AI with Greater Ease
AI has many components including Machine Learning (ML), Deep Learning (DL) and Natural Language Processing (NLP). Find out how SAS breaks down these components for business use in a digestible way within SAS solutions. Learn how this can help to foster collaboration, adoption and technical literacy. With specific examples, we will cover the business applications of these components and help you identify and understand the areas where they can provide added value.
About the speaker:
By leveraging best-in-class software and modern data mining techniques, Pat helps businesses visualize the potential of their data in order to surface relevant insights from it. Pat holds an academic background in Economics and Statistics along with over 20 years of business experience. Pat can easily understand and address data challenges in large organizations, and he knows how to help create value at every step of the analytics lifecycle from data discovery through to business strategy. As a recognized industry expert, Pat has delivered numerous webinars and workshops focusing on how SAS solutions can aid businesses in their analytic growth.
---